Corona test before ALSO counselling in the district of Vechta
We have continued to provide counseling openly in the offices or other places since the start of the Corona pandemic. Nevertheless, the ALSO counselors have always been as careful as possible. Even though some probably laughed at us. To date, we have not been infected with Covid19. We want to keep it that way.
In the past few weeks, however, people have come to us for counseling with fever and after direct contact with people who were in Corona quarantine. They didn't tell us anything about it. We really didn't like that. Therefore, we now expect everyone who comes to us for counseling to bring a negative Corona test. This should not be older than 2 days. Those who come to us for counseling several times in a week only have to bring the test the first time.
Everyone can be tested free of charge at 10 locations and 7 days/week in the district of Vechta. 1 test per week is free of charge.
Test centers and times (as of 9.4.2021):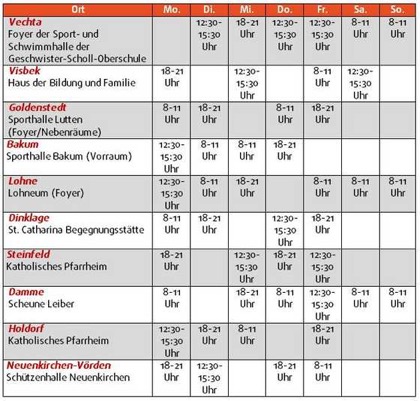 Please understand us,
Bianca, Ieva, Guido, 9 April 2021
What we do to avoid unnecessary victims of the corona epidemic: Counseling via phone, WhatsApp and email
Bianca, Guido, Ieva, independent counselors in the district of Vechta:
The novel coronavirus is highly contagious and can lead to a quick death for vulnerable risk groups. It spreads from person to person through respiratory droplets (produced by coughing, sneezing or breathing) and through contaminated surfaces or objects. Interrupting the chain of transmission seems to be the only possibility to avoid a scenario where medical doctors and hospitals can't cope with the large number of seriously ill corona patients.
To avoid overloading the health system, we try to do our share so that the virus doesn't reach many people even quicker. This is the only way to decrease the number of fatalities.
The corona epidemic is a special situation. Everyone should act accordingly to prevent the virus from spreading.
We will still offer counseling via phone, text messages, WhatsApp: english & german: 0176-43302128; lithuanian & russian: 0176-57936642; romanian: 0176-57996751 and email: lk-vechta-beratung@also-zentrum.de
If there's really no other way, we will still offer personal counseling – outside and without contact, keeping a distance of 1-2 meters. Please don't hold it against us, but we won't shake your hands. We will clean our hands carefully after every counseling, because the virus can also spread via paper.
Your ALSO-counselors.

The coronavirus – what we know and what we should keep in mind
As far as we know, the virus spreads through personal contact, more precisely though mouth, eyes, nose and skin injuries (so try to avoid scratching). So you can avoid spreading the virus to others or from your hands to your own skin (especially mouth, nose and eyes) by washing your hands regularly.
The virus can only survive briefly outside human bodies. In particular, daylight and oxygen destroy the virus. Here "briefly" can mean a few minutes or multiple hours or even days, depending on several factors, such as temperature, light and humidity.
Some examples for objects through which the virus can spread are door handles, light switches, keyboards, water taps, towels and handkerchiefs.
In addition, the virus spreads through respiratory droplets, produced when an infected person coughs or sneezes. So please make sure to only cough or sneeze into a paper tissue or the crook of your arm.
Some of these droplets are produced by breathing, not just by sneezing and coughing. In this way there is a sort of cloud ("aerosol") surrounding every human that can contain virus particles. To avoid spreading or contracting the virus through this "cloud", you should keep a distance of at least 1-2 meters from other humans.
For reliable information, see https://www.cdc.gov/coronavirus/2019-ncov/faq.html.
District Vechta:
| | | |
| --- | --- | --- |
| Tuesday | 09.00 – 12.00 | Kolpinghaus, Vogtstr. 15, Lohne |
| Tuesday | 14.00 – 17.00 | by arrangement |
| Wednesday | 09.00 – 12.00 | by arrangement |
| Thursday | 08.30 – 12.00 | by arrangement |
| Thursday | 14.00 – 17.00 | Parish Maria Frieden, Overbergstr. 5, Vechta |
By phone +49 (0)176 - 43 30 21 28:
| | |
| --- | --- |
| Monday | 09.00 - 13.00 |
| Tuesday | 09.00 - 13.00 |
| Thursday | 14.00 - 18.00 |